Mulch Installation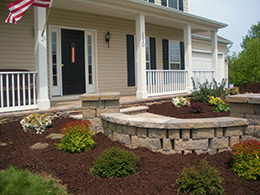 There are few things that can really restore a property's luster than a fresh layer of mulch.   Not only does it just look fantastic, but mulching can help suppress weed growth, while helping your beds retain moisture, lessening the need for constant watering.
We'll send one of our Armando Group landscaping teams to your Wayne, NJ area home to measure your landscape beds, help you select the appropriate type and color of mulch, and set up a time to deliver and install a healthy, beautiful layer of mulch.
 Did you know?
We provide our comprehensive lawn care and landscape services to the communities of Fairfield, Totowa, Franklin Lakes, Pequannock, Pompton Plains,  and Wayne, NJ.
If you have a business that is in need of a commercial landscaper, please give us a call, and we will gladly give you an estimate for our mulching service, too.   Our residential and commercial customers can reach us via one, easy number: 973-686-1371