Lawn Maintenance Service
What makes the biggest difference for your home's curb appeal?  Well, we might be biased, but the Armando Group thinks it's a beautifully maintained lawn, which begins with a quality mowing service.  For our Wayne, NJ area clients, the weekly attention of our mowing team ensures a lush, healthy lawn for you and your family to enjoy, and the added benefit of freeing up your time to do the things you love to do.
Armando's lawn mowing service includes mowing your entire lawn, trimming around all trees, posts, and fencing, as well as cutting the perfect edge along all sidewalks, driveways, and patios.  To finish every visit, we clean up all trimmings and debris, providing you with the ability to do nothing but enjoy your well-manicured property.
If you're interested in Commercial Lawn Care & Grounds Maintenance services, for your business location, please visit our commercial services page for more information.

Every Weekly Lawn Maintenance Service Includes:
Lawn Mowing
Using only the best lawn maintenance equipment, with extra-sharp blades, to insure a clean, healthy cut, our mowers cut your grass to the healthy height it requires.
Trimming
Where there is grass to be trimmed, we trim it!   Around trees and landscape beds, along sidewalks and curbs, you name it.  We even make sure your mailbox post has that professional touch.
Lawn Edging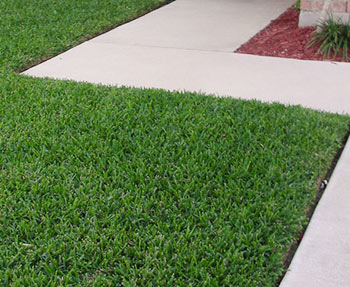 Your Armando Group Lawn Maintenance team will edge your curbs, driveways, and sidewalks, providing a clean, sharp, cut, creating a striking, visual transition between your grass and hard surfaces.
Lawn, Driveway, and Sidewalk Clean-Up
We blow off all surfaces, removing stray grass clippings and leaves.  Our weekly lawn maintenance service visit is not done until those finishing touches are completed.