Lawn Pest Control Services
Armando Group can help to keep your lawn and landscape pest-free.  To do so, we offer the following  pest control services:
Perimeter Pest Control
Our perimeter service consists of a liquid pest control application sprayed around the perimeter of your house, two times per year.  This establishes a barrier, helping to prevent unwanted pests from entering your home.
Flea and Tick Control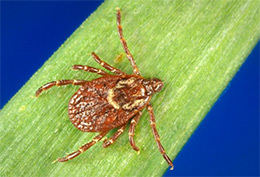 Did you know that New Jersey is actually a hotbed of flea and tick activity?  As much as we love our state, the Center for Disease Control says that ticks love it just as much.  As spreaders of Lyme Disease, ticks need to be controlled now more than ever.  Give us a call at 973-686-1371 and we will schedule your lawn as soon as possible.
Our flea and tick control service includes the application of a liquid or granular pesticide, applied to your  lawn and landscape bed areas.  This is done every 4 to 6 weeks, from April through September, to help protect you and your pets against fleas and ticks.
Did you know? 
In 2012, 95% of Lyme disease cases were reported from just 13 of our 50 states.  New Jersey is one of those 13.
Deer Control
For those of you who love your landscape as much as we do, there are few things more bothersome than deer making our carefully manicured landscape in to their personal dinner buffet.   We can help alleviate this issue, by using a liquid deer repellent, applied to your shrubs every 4 to 6 weeks, to prevent the deer from doing any more harmful damage to your property.